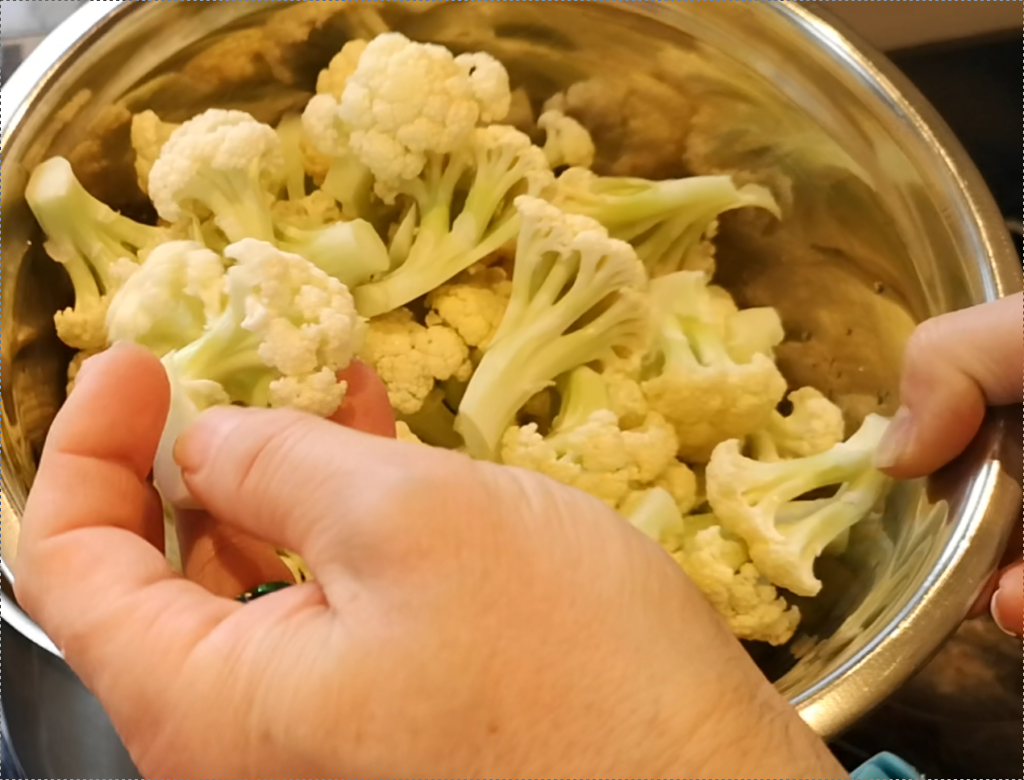 On our YouTube page we promised you our cauliflower curry recipe in a video.
It's our favourite way of dealing with cauliflower, and a change from cauliflower cheese. it takes an hour or so to put together and the smell is amazing. You can make it with a whole tin of tomatoes rather than fresh, leave out the water at the end. We generally serve it with a dal and rice.
Ingredients
1 Onion, medium
4 Garlic cloves, squished, skinned
1 Thumb-sized lump fresh ginger
1 Cauliflower, nice, big
½ tsp Ground turmeric
1½ tsp Salt
120ml Cooking oil
1 Tomato, medium (or a tin)
1 Heap of fresh coriander
¼ tsp Cayenne or hot paprika
2 tsp Ground coriander
2 tsp Ground cumin
½ tsp Garam masala
15ml Lemon juice
Instructions
Roughly chop the onion, garlic and ginger and put them in the blender with the turmeric, salt and enough water to make it all blend smoothly. Blend it smoothly.
Break up the cauliflower into florets roughly 20mmx50mm max. Wash, drain, evict wildlife. Chop up the tomato and fresh coriander, squeeze your lemon, sort out your spices.
Warm the oil in a heavy pan that takes a lid. Fry the paste (explosion warning) for about 5 mins and don't worry if it sticks. We're aiming for the oil to separate out a bit.
Put in the tomato, and coriander and boil that down for a few minutes, then add everything else and simmer. If you're using fresh tomato, put in about 60ml of warm water or it'll dry out and burn. Stir it all up and cook for 30-45 mins depending on how you like your cauliflower.
Goes great with rice & peas, or flatbread. Keeps well in the fridge, and can be cooked in advance and left on standby.
V1.0 vik@olliver.family.gen.nz (C)2019, GFDL Applies